Joe Duplantier (Gojira) – Interview
"You don't need to convince me to do something brutal, it's in my veins" – interview with Joe Duplantier (Gojira)
After nearly five years since the release of their Grammy-awarded LP "Magma", Gojira returns with new album. Although it was made at the beginning of 2020, before the global pandemic, its title – "Fortitude" – ironically fits current situation in the world.
Adding fact, that through their music Gojira often highlights humanity's negative impact on the environment, to mention just last year and Australia's bushfires, Amazonia's massive deforestation and oil spill around Arctic, this kind of record was needed like never before. We talked with band's vocalist and guitarist – Joe Duplantier, about work on this new album.
Michał Wawrzyniewicz (TopGuitar): Hi Joe, last time we spoke just few hours before Gojira's show at Pol'and'Rock Festival. How you recall that event?
Joe Duplantier (Gojira): For me it was just a normal show, in sense to get up there and do my thing the best I could. Considering the late hour and the clouds of dust in my nose it was a bit of a challenge because it's a crowd that is also coming to celebrate the event, festivals become institutions. I don't think the people were coming there to see Gojira, they were to see whatever was happening that day and we happened to be the headliner this day and it was a really good opportunity to play in front of so many people and it made us feel really good. It was incredible experience. It's one of these shows where I got on the stage and I had a little, two seconds of gasp of air, you know. "holly shit! So many people!"-kinda' reaction. It took me a few seconds to catch my breath and I was like: "oh my god, it's so many people". And that was just wonderful. Plus, before that I wasn't aware of Poland Woodstock, of that event and that it was so important, so I was a bit surprised.
GOJIRA – Pol'and'Rock Festival 2018:
TG: It was said that around 750 thousand people were at your show, so once again congratulations, it was great, and it was recorded and you have shared the whole show on your YT channel, so it's great to remind that day, especially right now, during pandemic. Hopefully you'll get the chance to play there again.
Joe Duplantier (Gojira): Yeah, it was amazing experience.
TG: When we were talking that day, when I asked you about the ideas for the upcoming album, you said that you are in "process of finding diamonds in the mood" and in terms of topics for this record, for sure you won't talk about driving a truck. After release of your first single – "Another World" – it was a great surprise to see that indeed, it wasn't a truck, but a spaceship. Does the ending of the music video somehow reffer to the "Planet of Apes", replacing Statue of Liberty with Eiffel Tower?
Joe Duplantier (Gojira): Yes, you know, it was one of these days where I said like: "we need to come up with something to this video, what can we do, what can we say?". I saw my thing to work on videos but since we are going to release the videos… because you know, the world is changing, if you're not gonna' release a bunch of videos for your album, that it's like your album sort of doesn't exist on the market. And since we are in this world, sometimes I have to sit down and think of idea and I see other bands doing some pretty cool stuff, like Rammstein or Mastodon. Mastodon are really good at making videos, they are funny and surprising. And it's a plus when you can come with something like that. So I thought, you know, I had this scenario: "Another world, another world for me". Let's be very practical and narrative, and follow the story: let's get out of this world and find a new world, it should be us building a rocket. And that already, I thought, was a funny idea, that the four musicians are gonna' build the rocket together, which actually works. And then, I immediately thought: "oh, it would be nice to get on the planet and it would turn out being just like a planet of the ape", so with this funny twist. I think it's a double, triple effect. so I thought that if we're gonna' put out some sand on a beach, and you're gonna' see Statue of Liberty, it's going to be hilarious, 'cause just like in the movie – and that's it. I wanted it to be funny, I wanted nearly the same shot. And then I was like, wait a second: Statue of Liberty? No, Eiffel Tower, motherfucka'. And then I was just laughing with my wife, I told the guys, they were like: "it's brillant, let's do it", and we were supposed to film it and then Covid happened and instead we had this animation.
GOJIRA – ANOTHER WORLD:
TG: What was your approach in working process on this new album? Is it true that your brother Mario convinced you and other band members to put couple heavier songs on the final record, as he mentioned in one of the interviews?
Joe Duplantier (Gojira): Haha, he likes to think that, but he didn't need to you use much conviction. I need to call him, haha, he didn't need to convince anybody, we are playing heavy music and all it took is a conversation, when he said: "c'mon, let's do this", and I was like: "you said three times you want to work on that heavy song, I was just concetrating at something else at the moment". But you don't need to convince me to do something brutal, it's in my veins. But we like to experiment the other things, go through more singing, more melodies, and trying new things is something that is important for us.
TG: The title track "Fortitude" is somehow a pivotal moment on the record, when you introduce to the listeners the second part of the album with "The Chant". What was your approach on composing this particular tune? Listening to it brings pictures of all these Gojira metalheads at the campfire singing together in the pit.
Joe Duplantier (Gojira): Yeah, hehe, you know, it was always somehow present in our music. If you'll listen to our back catalogue, you'll find a lot of little moments like that, that are really weird or really strange or acoustic. There are little snacks here and there between meals. But they carry something, and especially this one, which gave name to the album. That theme, is sort of chant, a mantra, that came to me when I was during some backing vocals for another song and I said that let's build a song around it. And I put it in there a lot of intentions, asking for help to the universe and say thank you. I wanted to put there something that will gonna' "soothe" instead of electrify people. And you know, it's a real thing, it's a real intention, prayer I would say.
TG: On "Amazonia" we can hear some kind of sound tribute to Sepultura and their "Chaos AD" era. Can you say a little more about this inspiration and overall, about some musical nuances audible on this record?
Joe Duplantier (Gojira): Sepultura's "Chaos AD" came out in 1994, three years before we started our band. And it was one of our favourite albums of all time. We did even think about it this way, it was at the time when we were listening to it. The "Roots" came out not too long after that. For us it was important. That was important information right there: a band playing this incredible, new sounding metal including their roots and their origins in the music and communicating something fresh and interesting. And I loved that mix of a tribal elements with our music, heavy music is very tribal. And I like it much more than heavy metal with hip-hop for example. It's another kind of fusion, which I love, and for me it makes so much sense. And we grew up listening to Sepultura a lot. So when we came with that riff, we thought: "oh, it sound like Sepultura a little bit, some elements for sure", but we didn't shy away from that, we actually loved it. And for us it became like a tribute to Sepultura versus trying to rip them off and trying to hide it. We're not ashame of it, this intro sounds like a Sepultura, plus the song is called "Amazonia", so there is reference to their homeland of Brazil. We feel fine with it and we are happy to talk about Sepultura.
GOJIRA – AMAZONIA:
TG: Couple songs on this album include some guitar solos played by you. As far as I'm concerned you needed to get rid of some, but how you feel about them overall?
Joe Duplantier (Gojira): It's not like I got rid of the solos, but it's more that there were some songs that didn't make it on the album, we wrote more songs than once you hear on the album, maybe ten more. And some of them had some cool solos that I was looking forward to develop, maybe two songs that had great solos in it. What I mean by great solos, I don't want to brag, but for me it was a jump to do these solos and there were sort of very groovy, I was excited about it. And then we decided that this song doesn't belong on the record, that's the story. But there are still one or two left on the album, which is new thing for us, we never played solos before and now we are like shredding.
TG: I assume you still use Evertune?
Joe Duplantier (Gojira): You know what, I do. For me Evertune is a incredible tool for a lot of moments in the musicians life, hehe.
GOJIRA – SHOOTING STAR at BBC1 Radio:
TG: Last year you have released a new series of your signature guitar model made by Charvell. Could you say a little more about it? You know, the pros and cons, I guess there are mostly pros, hehe
Joe Duplantier (Gojira): Yeah, haha, I don't see any cons, except one: it has only six strings, ah damn it! Hehe. It's a great guitar, I was never picky about guitars but I have my preferences, and obviously the Tele shape. It's not exactly Tele, there's a little twist to it in a head, but I like it. It's like a combination of two schools of rock guitars, where you have your Fender influence and your Gibson influence with a stoptail bridge and the blocks on the neck, and the classy shape of the Tele, there's something super-classic about the shape, the colours and how it's presented and how it feels. For me, the neck is really a neck to play precisely, it's large enough, it fits in the hand in really nice way. It comes with the Fortitude pick-up that I fine-tuned over whole year with DiMarzio and their team. I had the guy coming to my studio, sometimes almost every day to bring me new microphone to do pick-ups and do some try's and analyze the EQ, so this guitar comes with the pickup which to me makes a tremendous difference. Also, we had to keep it under control price-wise. It's not one of these US custom guitars, it's an affordable guitar, somewhere between 600-700 euros, which is affordable for a guitar with so much work and love behind it. I used it during the whole confinement, I recorded a whole bunch of stuff with it, we did a BBC, I sold a product, a plug-in with Neural DSP, that is a BOOM! by the way, and I recorded everything with this guitar.
ARCHETYPE plug-in made by Neural DSP:
TG: Great you've mentioned about this plug-in as I wanted to ask you about it. Last but not least question, as you and your band are scheduled to play as one of the headliners at the Mystic Festivals in June [which we already knew has been postponed to next year]. As we all see the global situation with this pandemic, I would like to ask you about some thoughts on this, and even if this year won't be possible, what you think about 2022 with eventual postpone of your tour with Deftones for instance?
Joe Duplantier (Gojira): The tour with the Deftones is supposed to happen this year in end of July, I really hope it's going to happen. I was really happy to be home for a little bit, 'cause it was the first time I had a chance to spend the full summer with my kids and my wife, so that was a positive of overall situation. But now it's starting to "itch" and I can't wait to jump on the stage again. And about my thoughts on the pandemic, I don't know, as the ending of our interview is near, I'm on so much pressure right now, what can I say? We are all in this together my friend, and we're gonna' make it. We're gonna' make it, ok?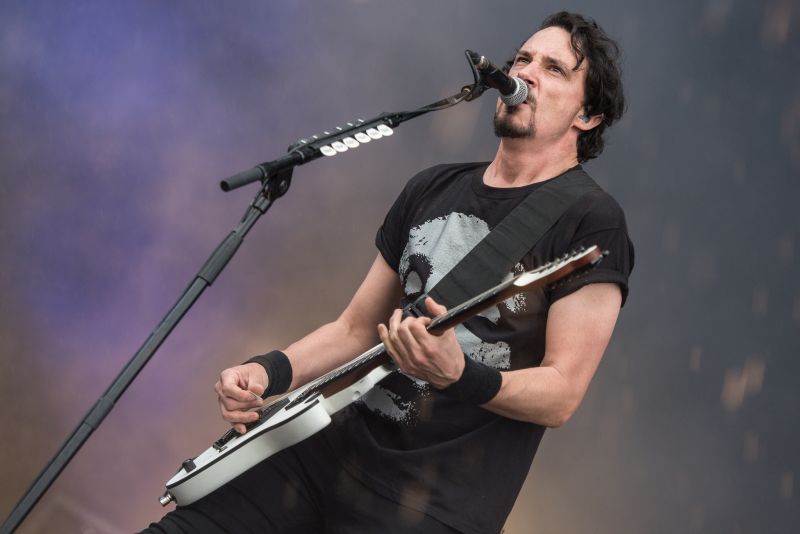 TG: For sure, thank you for your time Joe, congratulations on your new album, stay safe and see you soon in Poland.
Joe Duplantier (Gojira): Dziękuję, bye!
"Fortitude", Gojira's seventh longplay will premiere on April 30th through Roadrunner Records and Warner Music. Pre-sales available here: https://gojira.lnk.to/fortitude.
Recently Gojira has launched a special charity action called "Operation Amazonia" to benefit a non-profit organization fighting for rights of indigenous tribes in the Amazon. Details with links to auctions and lotteries are available here: https://www.gojira-music.com/amazonia.