Eugenio Mirti – guitarist (interview)
Eugenio Mirti: the versatile Italian guitarist, teacher and music journalist talks about his inspirations, his work for Musora, his favourite instruments and what he puts above guitar technique.
When and how did you first come into contact with music? What was the beginning of your adventure with the guitar like?
Eugenio Mirti: Ever since I can remember – I've always loved music, but I became seriously interested in it when my mother bought The Beatles 1962-66 – a collection of early Beatles classics. At the same time (I was 14 years old) I started playing guitar, mainly because I belonged to the scouts at the time and it was up to the guitarist to choose the songs we sang. I just wanted to play and sing the ones I liked best (and at the same time avoid all that crap that everyone loved back then!).
And what about your musical education?
Eugenio Mirti: Initially I was self-taught, but then I met an incredible jazzman – Luigi Tessarollo – involved me into improvised music. At the same time I also liked rock and blues, so I followed a path full of variety. As a teenager in Italy I could only officially study classical music, so I went to all the masterclasses and workshops I could find and I think this approach, quite strange and unusual, allowed me to be more original later on.
Observing your work, I noticed that you are a very versatile musician. Moving in the broadly defined field of jazz, you do not set any hard genre boundaries. You have played in many different bands, touching upon various genres and styles of playing. Do you define yourself as a jazz musician?
Eugenio Mirti: What I like about jazz music is that very often my heroes (above all: Miles Davis) were able to push the boundaries fucking up the tradition, so I love the word "jazz" in that sense of exploration and research. I don't like to define myself in a genre though, as I love jazz, rock or classical. I also do a long personal research into different folk traditions and I think my music reflects all these influences. Definitions are a tool of the market, not of the music.
On your album Zen#4 – Music for Meditation & Celebration you achieved a specific guitar sound (let's reveal to readers who haven't had a chance to listen to it yet that it is a solo recorded album!) – Can you tell us what effects you used?
Eugenio Mirti: I used more or less classic guitar effects: distortion, chorus, tremolo, delay. On Up Jumped Spring I used tremolo to accentuate the ¾ time signature (it's a bit like using drums without physically having them), while on Naima I used delay and reverse delay for a similar effect (the delay keeps the pulse going while I play the melody). In the Spring 2018 track I used an Electro Harmonix sitar effect. To tell you the truth, I really wanted to buy a Danelectro sitar, but I couldn't find one before I entered the studio. I think the effects are a really big part of this album, in the production of which Matteo Pellizzola helped me a lot – initially, Matteo was supposed to be the sound engineer, and he ended up co-producing it with me.
Besides guitar, you also play ukulele and Tibetan horn. Was it your idea from the beginning or did you decide to reach for additional instruments during the recording process in search of the right expression of emotions?
Eugenio Mirti: Living in an era that very often features plastic sounds, I try to use real instruments whenever I can. So I have a huge collection of instruments to play: guitars, but also some basses, lap steel, mandolin, theremin, various drums, – it's really great fun! The ukulele is interesting, but I wanted to use it as a solo instrument because I don't think anyone uses it for lead parts. And the Tibetan horn is a beautiful instrument, really difficult to play, so it added (I think) an exotic intro to the last piece. There's another outtake (my version of Can't Find My Way Home Blind Faith) in which I played on 12 strings, but it seemed that nobody liked this track, so I didn't use it on the album and released it as a special track on my Soundcloud page. You can listen to it here:
I realise that the 12 string guitar is not the most graceful instrument to play, however – especially after listening to this track, I feel a little sorry that it didn't appear on the album. I love the sound of it and in this case – you can consider me the first person who enjoyed this track very much! But back to the point – you've listed a whole artillery of musical equipment at your disposal. And what does your guitar collection look like? Do you have a favourite among them?
Eugenio Mirti: I'm not a rich man, so I don't own dozens of guitars! The most precious one I have is a Gibson 175, the one I play most is an Epiphone Casino, and a Jim Reed Telecaster with P58 pickups is a real badass! I also still have my first electric, a 1983 Strat, and when I want to kick asses, I have a very nice Manne (Semiacustica model). I would also add a classical guitar and lap steel, and that's more or less it!
Tell us, please, who are your musical influencers?
Eugenio Mirti: Basically, everyone from minimalists to the Beatles, from Balinese gamelan to Bach.
Coming back to your album – it features both your own compositions and a few covers. What made you choose particular pieces?
Eugenio Mirti: I wanted to play songs chosen from the classical repertoire (Leo Brouwer, Béla Bartók), jazz (Freddie Hubbard and John Coltrane) rock (The Beatles) and folk (White Flower is a traditional Chinese song). I love these compositions and it was fun to find an excuse to play them in a different way.
How long did the preparation for this album take?
Eugenio Mirti: It took me 10 years to think about its shape and 2 days to record it. A solo guitar album is usually the traditional type of album, especially in the jazz field where everyone loves the Joe Pass approach with Virtuoso. I love Joe, but I wanted to do my own thing and be original, so I took my time and waited until I had a clear vision of what I wanted. Being a music journalist, I was afraid that I would create a useless record, like the ones that often come to me, and I hope I avoided that.
So: Besides being a musician and composer, you're also a music journalist and teacher. Now let's talk about Eugenio – the journalist. You write for Jazz.it, you published your own album from your trip to Taiwan and – together with friends – you founded an international portal: JazzEspresso. Can you tell us something more about this?
Eugenio Mirti: The idea behind Jazzespresso is that jazz magazines usually cover what's happening in the US and Western Europe; sometimes they talk about musicians from other countries once they've made it in the US or Western Europe. But nobody knows what is happening in Australia, Asia or Russia, for example. So the idea was to create a hub in 5 different languages, covering as many jazz scenes in the world as possible. It's a titanic job, but it's very enjoyable and leads to you having friends everywhere!
You like travelling, listening to the world, observing nature. How does this influence your music?
Eugenio Mirti: Playing a track is like telling a story: if you don't live an interesting life, you won't be able to do it, even if you have a great technique. So the point in art is, in my opinion, that LIFE is art, and in my case music and guitar are a mere tool I use to tell stories.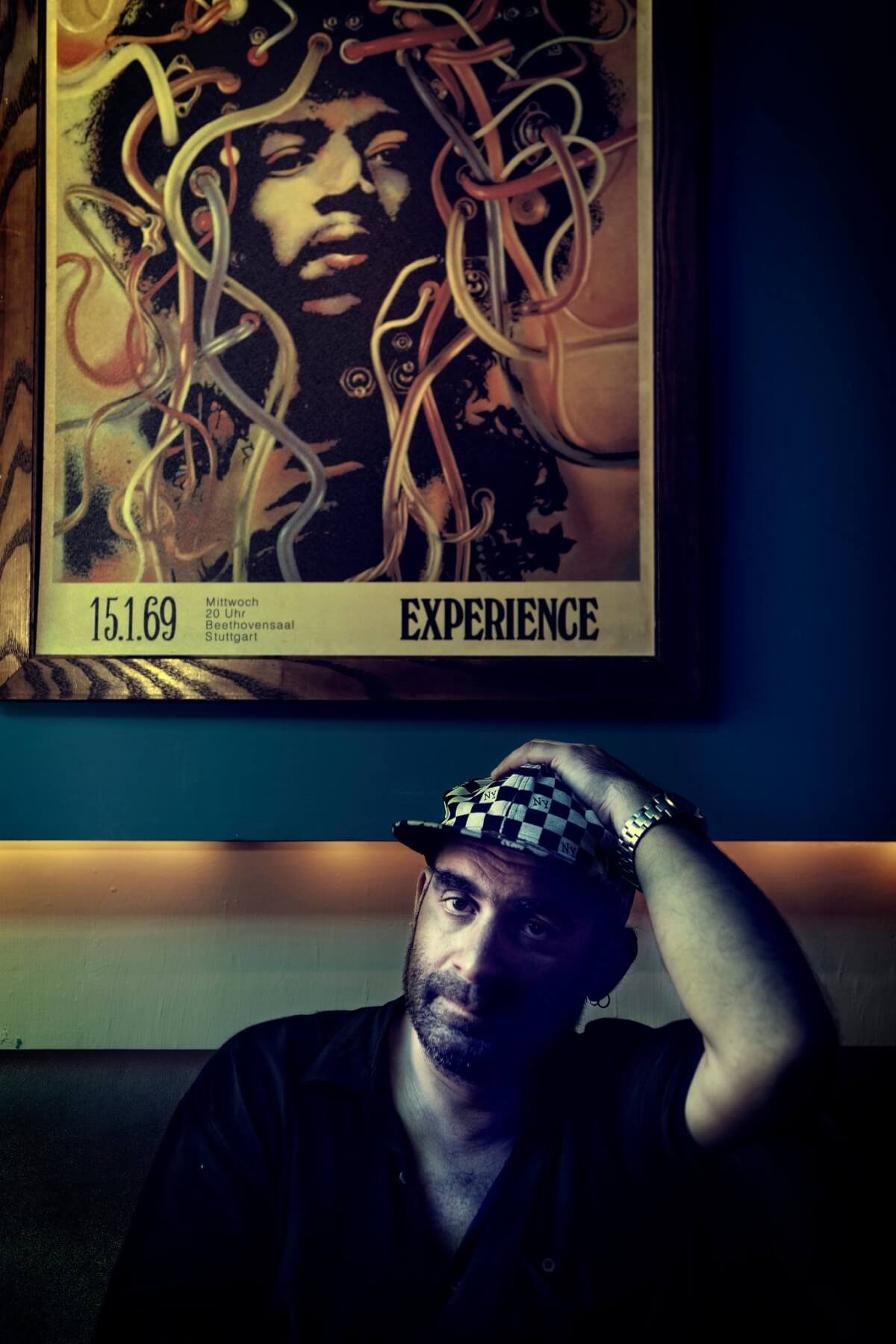 Apparently you are thinking about recording a new album in the near future…. is it true?
Eugenio Mirti: Yes, I have three projects in mind: a follow-up to Zen #4, an acoustic album of protest songs (such as We Shall Overcome or Bella Ciao); and a live album with my trio The Groove, The Bad And The Ugly, which we plan to record in early 2022.
As far as I know, you are also one of the most famous music teachers in the Torino area. How long have you been a teacher? What do you consider the best thing about this job?
Eugenio Mirti: I have been teaching since 1990 (quite a long time!). I like this job because each of my students is different and if you are a good teacher, – each of them is an individual challenge to help them discover their own path to music. So it's very tiring at times, but it always brings a lot of novelty and freshness – so it's a job I really enjoy!
You were also recently hired by Musora, the Canadian company that owns the Drumeo, Pianote, Singeo and Guitareo brands, as a publishing specialist and transcription/annotation expert. Could it be that your day only has 24 hours too?
Eugenio Mirti: I am a gemini, so I manage to run all day long! Musora is actually (I think) the largest music school in the world, with over 50,000 students. It is the future of teaching. There is an idea of community at Musora that I like and that has been my idea all my life so far: respect, humility, sharing of experiences, willingness to pass on knowledge while using the latest technology (live online lessons, soundlice, backing tracks, forums, and so on). All brands belonging to Musora have their channels on Youtube, you can make your own opinion watching hundreds of videos available for free:
Is there anything else that Top Guitar readers should know about Eugenio Mirti?
Eugenio Mirti: I love to study Chinese, I don't give a shit about football, like many Italians – I'm a good cook. I love John Fante so much that I sometimes give myself the nickname Mirtifante as a tribute to Arturo Bandini.
Thank you very much for your time and for the nice conversation. I hope to see you soon on your tour of Poland!
Eugenio Mirti: Thanks!
Especially for Top Guitar readers, Eugenio is giving as a gift his beautifully illustrated publication The Taiwan Travel, free to download in *pdf format
Website: www.mirtieugenio.com
YT channel: https://www.youtube.com/c/eugeniomirti
Main photo: Eugenio Mirti, photo credit: Leonardo Schiavone